The Blue Ribbon School Awards Ceremony took
place on Tuesday, November 10th. in Washington D.C.. Dr. Tom Wiatr, Mrs. Gina Nelson, and Mrs. Heidi King proudly represented Washburn High School.
Washburn High School Recognized as a 2015 National
Blue Ribbon School!
On Tuesday, September 29th, U.S. Secretary of Education Arne Duncan recognized 335 schools across the United States as National Blue Ribbon Schools for 2015 based on their overall academic excellence or their progress in closing achievement gaps among student subgroups.

These schools demonstrated that all students can achieve to high levels. Washburn High School won this high honor for their exemplary academic excellence.
"This honor recognizes your students' accomplishments and the hard work and dedication that went into their success," Duncan said to the awardees. "Your journey has taught you collaboration, intentional instruction, and strong relationships in school and with your community. You represent excellence—in vision, in implementation, and in results—and we want to learn as much as we can from you." Please view the video link announcing this award. Also view link to the Washburn HS Blue Ribbon webpage.
The award plaque affirms the hard work of students, educators, families and communities in creating safe and welcoming schools where students master challenging content. The award flag gracing a school's building is a widely recognized symbol of exemplary teaching and learning.
Washburn High School is among three high schools in Wisconsin earning this distinction. The state's highest performing schools are measured by state assessments or nationally normed tests.

The Department will honor the 285 public and 50 private schools at a recognition ceremony on Nov. 9-10 in Washington, D.C. In its 33-year history, the National Blue Ribbon Schools Program has bestowed this coveted award on more than 8,000 of America's schools. Dr. Thomas Wiatr, district administrator, Heidi King, principal and Gina Nelson, high school teacher will be in attendance at this ceremony representing Washburn High School.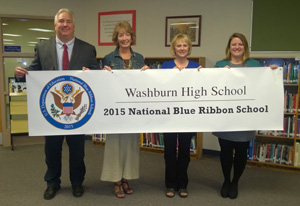 Dr. Thomas Wiatr, Kathy Radtke, Christina Sauer and Heidi King holding the Blue Ribbon Banner.

Washburn Public School
Board Members:
Christina Sauer - Board President ~ csauer@washburn.k12.wi.us
Roxanne Shuga- Vice President ~ roxanne.shuga@washburn.k12.wi.us
Richard Avol - Clerk ~ peruse@chequamegonbooks.com
Colleen Geisen- Treasurer ~ cgeisen@washburn.k12.wi.us
JoAnne Katzmarek- Board Member at Large
~ jkatzmarek@washburn.k12.wi.us
To mail all the school board members use schoolboard@washburn.k12.wi.us


Our mission is to enable students to enter the global society with the knowledge, skills, habits, and attitudes required to be contributing citizens.


OPEN ENROLLMENT 2015-16
Please call the District Office for More Information: 715-373-6188 ext 101
Wisconsin DPI Open Enrollment Application
Open Enrollment Brochure
Food Service Notice for Free/Reduced Lunches for 2015-16 school year.
Child Find Public Notice
Homeless Information
Other Public Notices
W.E.A. SCHOLARSHIP
The Washburn Education Association is offering a $500 scholarship to a college student interested in the field of education. Please complete the application and return it to Sue Schreiner, School Counselor, Washburn High School P.O. Box 730, Washburn, WI 54891. Two written recommendations are also required which should be mailed directly to: Sue Schreiner. Deadline for Application: Postmarked no later than February 5th, 2016.
Qualifications:
1. The recipient must be a graduate of Washburn High School.
2. The recipient must be attending a college or university as a junior or senior in the field of education.
3. The recipient must be a student in good standing (grade point average 3.0 or above).
Please participate in this green community art project by taking
this survey.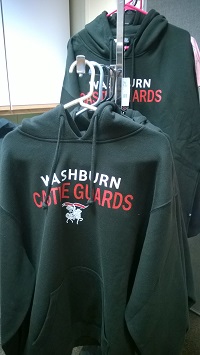 School Spirit Wear Available
FOR SALE
through Nov. 30th
To order fill out the order form or call 373-6188 ext. 140
------------
Washburn financial situation 'solid'
WASHBURN SCHOOL DISTRICT OPEN HOUSE
(Reprinted with permission from
Rick Olivo at the Ashland Daily Press)
For the complete unedited article click here.

WASHBURN - In 2008, the Washburn School District was in trouble. Fast forward to 2015. At Wednesday evening's "State of the District" address, given at the district's annual open house, District Administrator Dr. Thomas Wiatr said it is a vastly different Washburn School district, one that is gaining dramatically in student numbers, while the district's financial situation has "stabilized," and the district is proudly showing off its new and innovative improvements. "We've had some exciting things take place over the past few years," said Wiatr, who noted that after five years of being district administrator, he still gets questions about the district's continued survival. "I've made it a mission, everywhere I go to reassure the community that the financial situation in Washburn is solid," he said. "We have the funds to meet our budgets, to advance our projects, to retain staff."

Consumer science and green and healthy instructor Greta Kochevar highlighted a number of initiatives that have involved students, including a district-wide recycling program, a new aquaponics lab where yellow perch are reared and spinach and lettuce are grown. "It is fantastic because now we can have part of the farm to school program and part of the environmental learning happening during the school year instead of trying to figure out how we can teach these things during the summer," she said.

Washburn High School principal Heidi King explained about school activities that included working with the University of Kansas to study the migratory patterns of monarch butterflies, a cultural and science-based experience with the University of Wisconsin Extension involving Lake Superior, the environment and local Native American tribes.
"We are also working with Wisconsin Coastal Management and the Town of Bayview to help preserve Houghton Point through education of students and the public, as well as new signage, a boardwalk and trail," she said. "These are all real hands-on experiences was can offer our students with community support and updated curriculum and updated facilities," she said.

King also talked about Washburn High School winning a National Blue Ribbon School Award. She noted that only 335 schools had won the award in 2015. The Washburn High School was one of five schools earning this award in Wisconsin this year.