The Seppas are the Fraser Teachers of the Year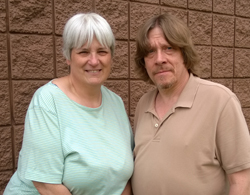 Theresa and Rick Seppa were the recipients of the 2015 Fraser Teacher of the Year Awards. The prestigious awards were presented by the Washburn District Administrator Dr. Thomas Wiatr. The award goes to a MS/HS teacher and an Elementary teacher that exhibit high qualities of character, effective teaching skills and genuine dedication. Mr. Donald Fraser was a former resident and graduate of Washburn Schools. He wanted to thank the School for his fine education and to honor his deceased parents, who at one time served on the Board of Education.
Theresa Seppa, a third grade teacher in Washburn Elementary is very dedicated to her profession. She attends workshops & classes to stay updated with current practices; is active in PLC groups continually striving to increase her own personal learning. She is often a mentor for more than just her assigned Mentees. Theresa has been a supervising teacher to many aspiring teachers supporting them in developing successful, effective and welcoming teaching styles. One of her peers stated in recommending her for the award: "Like the ripples that move away from a stone hitting water, Theresa's teaching, kindness and supportive mentorship ripple out into the community on levels that cannot even be expressed". The community can see Theresa sitting behind the table taking tickets at all the music functions.
Rick Seppa, the MS and HS band director is seen by his peers as a "Super Human". Besides his teaching and working on school committees he is extremely active in the community with Lions Club, Local City Bands, Volunteering at Big Top Chautauqua and anything else someone can drag him into. Rick does not see himself just as an employee of the district, he sees himself as part of a team whose goal is to bring enlightenment, education and the arts to the students of this district so they are prepared to go out into the world as well rounded adults.
Washburn Public School
Board Members:
Christina Sauer - Board President ~ csauer@washburn.k12.wi.us
Roxanne Shuga- Vice President ~ roxanne.shuga@washburn.k12.wi.us
Richard Avol - Clerk ~ peruse@chequamegonbooks.com
Colleen Geisen- Treasurer ~ cgeisen@washburn.k12.wi.us
JoAnne Katzmarek- Board Member at Large
~ jkatzmarek@washburn.k12.wi.us
To mail all the school board members use schoolboard@washburn.k12.wi.us
Our mission is to enable students to enter the global society with the knowledge, skills, habits, and attitudes required to be contributing citizens.
Food Service Notice for Free/Reduced Lunches for 2015-16 school year.
Child Find Public Notice

Other Public Notices
Congratulations on your Retirement!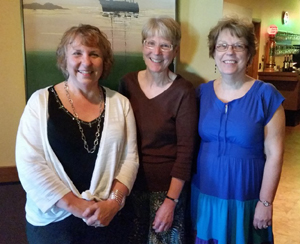 Washburn Public Schools had three teachers who have retired this year. They are: Lynn Adams, Sandy Nutt and Kerry Hill. These three teachers, all Northland College graduates gave over a 100 years of combined teaching experience to the children of our area.
Sandy Nutt, dubbed the "Energizer Bunny of the Elementary School" has taught in Mellen, Marengo Valley, South Shore and Ondossagon before coming to Washburn in 1990. She has a total of 38 years of teaching with the majority of it being in the first grade. Sandy has been instrumental in organizing the "Read Across America" program in Washburn for many years.
Kerry Hill started her teaching career in 1983 at Ondossagon School teaching Geometry and worked I the office. She then came to Washburn in 1990 and has been teaching for over 30 years high school math. Her peers respect her ability to actively engage students in learning math and is willing to go the extra mile for her students.
Lynn Adams was hired in Washburn beginning with the 1977 school year. She left for a short while and began again in 1980. She has over 36 years with the Washburn School District teaching physical science, math, physics, chemistry, photography, computer lit, web design, middle school math and science, etc. Lynn was the high school yearbook advisor for 25 years and is the webmaster for the district.
Link to
The Characters in the
Community
Scavenger Hunt
Host Familes are needed for AFS students for the 2015-16 School Year. Please click for more information.
OPEN ENROLLMENT
2015-16
Please call the District Office for More Information:
715-373-6188 ext 101
Wisconsin DPI Open Enrollment Application