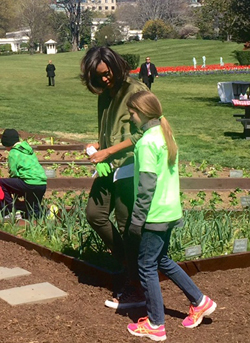 First Lady Michelle Obama Planted White House Kitchen Garden with our Washburn Elementary Students!
The White House– The First Lady welcomed students from across the country as well as NASA representatives to plant the White House Kitchen Garden for the eighth year in a row, and final time as First Lady. In 2009, Mrs. Obama planted a vegetable garden on the South Lawn to initiate a national conversation around the health and wellbeing of our nation—a conversation that evolved into her Let's Move! initiative.
Mrs. Obama was be joined by students that have inspiring school garden programs from Wisconsin, Colorado, and Louisiana as well as two Washington D.C. schools. Washburn Elementary was selected as one of five schools to participate.
In addition, NASA Deputy Administrator Dava Newman and Astronaut Cady Coleman joined Mrs. Obama and the students to plant the same variety of lettuce that has been grown on the International Space Station.
Representatives from the 4th and 5th grade at Washburn Elementary and two elementary teachers made the all expense paid trip to Washington D.C. to help Mrs. Obama on Tuesday, April 5th.
In a press release showcasing the project, the following paragraph was written about the Washsburn school garden program.
Washburn School Garden Program – Washburn, Wisconsin
The mission of the Washburn School Garden Program is to cultivate environmental stewardship, foster human health, and develop ecological sustainability. The Washburn School District currently maintains a 6,400 square foot school garden and small orchard. Elementary grades each have a section of the garden to maintain throughout the year, and the middle school and high school have classes that use the garden extensively, culminating in an Agriprenuer program. Much of the food grown is used in the school food service, with additional food sold to the community.
Whole White House Press Release
Washburn High School Recognized as a 2015 National
Blue Ribbon School!
(click here for more info.)
Washburn Public School
Board Members:
Christina Sauer - Board President ~ csauer@washburn.k12.wi.us
Roxanne Shuga- Vice President ~ roxanne.shuga@washburn.k12.wi.us
Richard Avol - Clerk ~ peruse@chequamegonbooks.com
Colleen Geisen- Treasurer ~ cgeisen@washburn.k12.wi.us
JoAnne Katzmarek- Board Member at Large
~ jkatzmarek@washburn.k12.wi.us
To mail all the school board members use schoolboard@washburn.k12.wi.us

Our mission is to enable students to enter the global society with the knowledge, skills, habits, and attitudes required to be contributing citizens.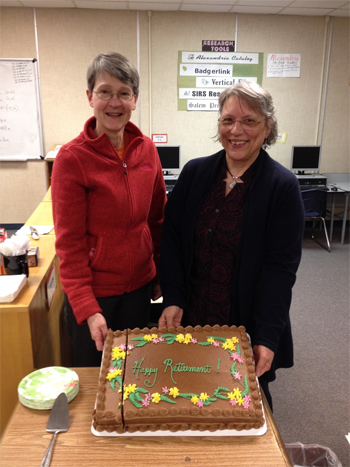 Washburn District Congratulates
Becky Rathke and
Jean Fenner
on their retirement

Becky Rathke has taught K-12 PE, Health First Aid and CPR for the last 25 years at Washburn. She received her BA from Gustavus Adolphus College with double majors in Physical Education and Health. She then completed her Masters in Educational Instruction from UW Superior. Prior coming to Washburn Becky had been a full time P.E. instructor and basketball and volleyball coach for the Ondossagon School District. During Becky's career in Washburn she coached Girls Basketball, Organized the Bill Koch Ski League and after school WESKI program. She said she will miss the students, helping them gain skills and confidence and learning new ways to play. She will miss the staff, and working with supportive professionals who made her feel like family. She plans to spend more time with family, travel and to find her bliss!
Jean Fenner taught for 21 years beginning in 1995 in the Washburn system teaching middle school Reading, English, Science Social Studies, SPED, Health and Math. She spent many years prior to teaching at Washburn as a sub for the district. Jean received her Undergrad degrees in Resource Management (UWSP); Elementary Certification (UWP); and a Grad degree in Special Education (UWS). During her career she coached cross country and softball. She will really miss her students. Jean enjoyed seeing the changes that happened over the course of a year. She loved seeing the light bulb go off in their eyes when they got something that she was explaining. She will also miss the adult conversations and how well this staff all pulls together toward the common goal, the great education of our students. She will enjoy not being tethered to a school year calendar that will allow her to be more available to her family for times of joy and times of need. There may be a trip or two to foreign and domestic lands!
----------------------------------------
OPEN ENROLLMENT INFORMATION
The open enrollment option is still available for students to enroll in the Washburn Public Schools. The best way to apply is online (a link to the online application is at the top of this page during the application period). Additional information on the regular open enrollment application season can be found on our applications page
LINKS:
DPI Open Enrollment Information
Application for Open Enrollment
Alternative Open Enrollment Application
(after April 29th)
Open Enrollment DPI Brochure (pdf)
WITC Promises FREE Tuition for area High School Graduates
The WITC Promise Scholarship will pay the balance of tuition and fees for eligible students after federal and state grants are applied. Tuition will be covered up to four terms (pending eligibility requirements each term).
"The WITC Foundation Board is pleased to support and fund this important college initiative. We know the college's graduates are in high demand and the WITC Promise will give the opportunity to more individuals to attend WITC who otherwise might not have been able to afford to enroll," said Charlie Singler, WITC Foundation Board President. (Link here for the flyer)
Food Service Notice for Free/Reduced Lunches for 2015-16 School Year

Child Find Public Notice
Homeless Information
Other Public Notices