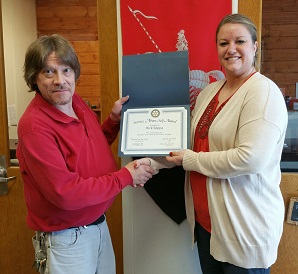 On Tuesday, March 21st, Mr. Seppa was awarded the Rotary Club's "Service Above Self" Award. Being as selfless as he is, Mr. Seppa used the opportunity to speak to the Rotary membership the about the profession of teaching, as a representative for all teachers. He said, "I am extremely honored to have been chosen for this award. Going "above and beyond" is a characteristic of so many in the profession and there are many deserving individuals." Mr. Seppa is no doubt a deserving individual, using much of his free time to volunteer for local music venues, theater, city organizations and festivals, and the Lion Club. We are very proud to have Mr. Seppa as part of our staff! Congrats, Mr. Seppa….well deserved!
Washburn Public School Board Members:
Christina Sauer - Board President ~ csauer@washburn.k12.wi.us
Mark Sneed - Vice President ~ sneed355@centurytel.net
Richard Avol - Clerk ~ peruse@chequamegonbooks.com
Colleen Geisen- Treasurer ~ cgeisen@washburn.k12.wi.us
Roxanne Shuga- BoardMember ~ roxanne.shuga@washburn.k12.wi.us
To mail all the school board members use schoolboard@washburn.k12.wi.us
Our mission is to enable students to enter the global society with the knowledge, skills, habits, and attitudes required to be contributing citizens.

.
OPEN ENROLLMENT
2015-16
The Open Enrollment application period for 2015-2016 runs from February 2nd until April 30th, 2015 at 4:00PM.
Please refer to the Quick Links below to obtain additional information about this option. Early and late applications will not be accepted.

If you have any additional questions regarding this program, please contact Therene Gazdik at 715-373-6188 ex 101
Wisconsin DPI Open Enrollment Application
Congratulations to the Washburn High School on being nominated for the National Blue Ribbon Award!
The National Blue Ribbon Schools Program, recognizes overall academic excellence or progress in improving student achievement.
"The students, educators, families, and communities that make up the schools nominated for this recognition program consistently strive for and work hard to attain exemplary achievement," DPI State Superintendent Evers said. "This commitment is foundational to student success in their schools."
Selection criteria for this year's program require that schools have at least 100 students and be open for at least five years. Additionally, schools must have met annual measurable objectives for the 2012-13 and 2013-14 school years.