A Big Welcome to the
New Staff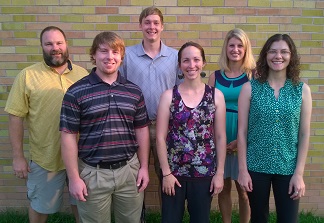 The Washburn Public School's welcomes six new teachers to the system for this school year. (Front: l to r) Mr. Shane Buckley, Mrs. Linsey Abel, Ms. Noelle Kichak, (Back: l to r) Mr. Patrick Earing, Mr. Sean Augustyn and Ms. Jodi Maddock.
Shane Buckley will be teaching math at the middle school this year. He is a Northland College graduate and has previously taught 4th grade at Park Falls and did his student teaching in Washburn. He is excited to be back.
Linsey Abel will be teaching AP calculus, AP stats, pre-calc, Algebra 1 and 2 at the high school this year. She is a graduate of Cairn University, loves to spend time outdoors, going to coffee shops and hanging out with her husband and two children.
Noelle Kichak is the new Speech/Language Pathologist for the district. She received her M.S. degree from the University of WI – Stevens Point and a B.S. degree from UW-Stevens Point in Communicative Disorders. She was born and raised in Mercer and has worked previously in hospitals, and elementary, middle and high school settings in Maine. She is looking forward to cheer on the Castle Guards and is happy to be back in Packerland.
Patrick Earing will be teaching math at the high school this year. He graduated from the University of Nevada in Reno and received his master's degree in education from St. Martin's University in Washington State. He recently taught high school mathematics for the Bayfield school district. He loves to cycle, ski and sail in his free time.
Sean Augustyn will be teaching Biology, Ecology, Aquaponics, Forensic Science, Medical Terminology and Anatomy this year. He is from Ripon, Wisconsin and is a recent Northland College grad.
Jodi Maddock will be teaching 4th grade at the elementary this year. She received her bachelor's degree from Lake Forest College and her master's degree from Concordia University. She and her husband, Seamus moved to Washburn from Williston, ND where they lived for the past three years. They have a nine month old daughter and is excited to be joining the Washburn School District.
Washburn Public School
Board Members:
Christina Sauer - Board President ~ csauer@washburn.k12.wi.us
Roxanne Shuga- Vice President ~ roxanne.shuga@washburn.k12.wi.us
Richard Avol - Clerk ~ peruse@chequamegonbooks.com
Colleen Geisen- Treasurer ~ cgeisen@washburn.k12.wi.us
JoAnne Katzmarek- Board Member at Large
~ jkatzmarek@washburn.k12.wi.us
To mail all the school board members use schoolboard@washburn.k12.wi.us
Our mission is to enable students to enter the global society with the knowledge, skills, habits, and attitudes required to be contributing citizens.
Food Service Notice for Free/Reduced Lunches for 2015-16 school year.
Child Find Public Notice

Other Public Notices
AFS Welcomes Five Students to Washburn for the
2015-2016 School Year
Five Washburn families have opened their homes this year to students from the AFS program. AFS's mission is to work toward a more just and peaceful world by providing international and intercultural learning experiences to individuals, families, schools, and communities through a global volunteer partnership. There are students still waiting to be placed. Please call Lynn Adams at 715-373-2618 or Lisa Abeles-Allison at 715-209-4955 if you are interested in hosting this year.
Carita Frangen




Finland


Staying with Heidi & Tim King Family

Ulysse Corre




France


Staying with Donna & Greg Fischer Family

Isabelle Kerstens




Denmark


Staying with Rachel Floran Family

Yumi Tsuchiya




Japan


Staying with Wendy Shields Family
Paloma Wanke
Germany
Staying with the Beta Bodin Family
OPEN ENROLLMENT
2015-16
Please call the District Office for More Information:
715-373-6188 ext 101
Wisconsin DPI Open Enrollment Application